Every year on December 10, Human Rights Day raises public awareness about social, cultural, and physical rights. Also, to safeguard the welfare of society in all circumstances. The theme of this day changes every year to remind individuals of their human rights and societal obligations.
The theme for the year 2021 is EQUALITY – Eliminating inequalities, promoting human rights". Article 1 of the Universal Declaration of Human Rights states that humankind is born free and all are equal in dignity and rights. Before building a sustainable future for humankind, addressing, and resolving the established forms of discrimination and inequalities that affect the most vulnerable people in societies, including women and girls, Indigenous peoples, racialized communities, LGBTQI2S people, migrants, and people with disabilities, is essential.
Human Rights: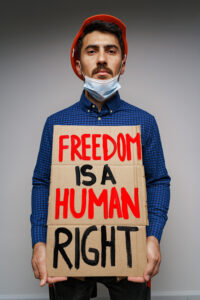 Human rights are fundamental rights that all people have, regardless of race, gender, religion, ethnicity, language, nationality, or another status. The right to life and liberty, freedom from slavery and torture, freedom of thought and speech, and many more are all protected by human rights. In conclusion, everyone has the right to these freedoms with no exception.
History of Human Rights Day:
The United Nations General Assembly passed Resolution 423 (V) in 1950, asked all Countries and interested parties to honor Human Rights Day every year on the 10th of December. As the General Assembly implemented the declaration, it was announced as a shared standard of achievement for all peoples and all nations," toward which individuals and communities should "strive to obtain their universal and effective recognition and observance through progressive national and international measures." The bill was praised for being "more declarative than legislative, more suggestive than binding by both supporters and opponents
Why is this day important?
On #HumanRightsDay, join our conversation series with young people from around the world on #humanrights #education for, with and by youth.

Register now for the event on Friday, 10 December, 14:00-15.15 CET. Register here: https://t.co/hOGZBPwmx8 #FIghtRacism pic.twitter.com/qK9kbFd7UJ

— UN Human Rights (@UNHumanRights) December 6, 2021
The human race deserves fairness, respect, and humility.
Each of us is born equal and deserves equal treatment. Similarly,  an individual should have the right to live their lives as they please without being mistreated, silenced, owned, or silenced.
A reminder of how far we've come.
While still there is so much left for us to do, we should accept the progress achieved so far. The world is a better and more equitable place for more people than it was a few hundred years ago. It's time to acknowledge this fact and work on the improvements needed.
Promotes Unity
When the Declaration of Human Rights Day was first formed, 48 member states agreed. 48 countries united in the notion that everyone's life must and can be better.
How to celebrate Human Rights Day?
Donate to any trustworthy charity organization :
Your smallest contribution can create a great impact on someone's life. So, today is the right to go ahead and do it.
Be a part of any human rights event:
Throughout the day, there will be political gatherings, exhibitions, cultural activities, meetings, and debates. So, if you are interested in joining the community, attend one of them.
Establish your support:
Well, posting your thought on social media or being part of an online discussion demonstrates your support towards that movement.
Not A Werbylo User?
 Fundraising can be done anytime. If you would like to raise funds for this Human Rights day you must visit Werbylo as it is a reliable platform. It does not take any hidden charge from you and also the user interface is very simple. They believe 'We rise by lifting others. So, what are you waiting for? Start your own fundraising campaign on Werbylo on this Human rights Day.
Download for FREE now!
Which one is your app store?